2017 Summer
Series Schedule

Click here!
SORCS Discussion Forum
Click here!
Race Timer Live
Unofficial Race Results
Click here for details
2017 FLY Racing Contingency Info
Click here for details


Husqvarna Contingency Program


2017 SORCS Race Results


2017 Series Points


2017 SORCS Winter Race Results


2017 Winter Series Points


Rules and General Info


Fees


Classes

Visitor#
1148252
Hello SORCS racers!

Thanks so much for bearing with us in this trying year of racing.
Our cancelled race in South Pittsburg will be made up on October 1st in Sewanee, Tn. The same land owner owns both Sewannee and South Pittsburg and we feel like we can give you, the racers a better race in Sewanee. The Sewanee course got very rough by the end of the race June 24th. Therefore we are going to go over the entire thing and add some new sections as well. We know rescheduling always causes conflict but October 1st is our best chance to make up our cancelled South Pittsburg race. We apologize for any inconvenience.

Our tba race on October 15th will be in Dawsonville, Ga. This new venue will be very spectator friendly and feature some nice elevation changes and grass track.
Our November 19th date will be at Aonia in Washington, Ga. I know Aonia has been around a long time but it is healing up nicely after years of over riding the property. We have several new properties that may be on next year's schedule. If you have 400 or more acres or know someone who does, give us a call. We are starting to get next year's schedule together.

We would like you all to keep Nick Eisner and Mike Crane in your thoughts and prayers as they were both injured at the Tracy City race last weekend.

Please note, the 7 remaining races will all be run on the split start format. With the bigger crowds we've been having, it is just a safer way to race. At the end of the year let us know what you think, one bike race or split start format?

Thanks so much for supporting SORCS, hope to see you all at Swimmin Hole, don't forget your swim suits!


---


Round 8 - 2017 SORCS Series
August 27th 2017
Swimmin Hole : Holland, GA.

Round 8 will be a split start.
Minis 8:15 AM
Pee Wee 9:30 AM
All C, Beginner classes, jr Trail, and Womens 10:30 AM.
All AA, A, B, 55+, 60+ and 65+ 1:00 PM.
All Quads at 3:30 PM.




Directions:
From Summerville, Ga. Go west on hwy. 114/100 .6 miles then turn left on hwy.100. Go 9.4 miles then turn right on Holland Chatoogaville Rd. Go 1.6 miles to praking lot on left.

From Rome Ga. Take hwy.20 west towards Centre, Al. (approx 10 miles) then turn right on hwy. 100 towards Summerville. Go 6.6 miles then turn left on Holland Chatoogaville Rd. Go 1.6 miles to parking lot on left.

---
Race Registration and Race Start Times are based on
Eastern Standard Time.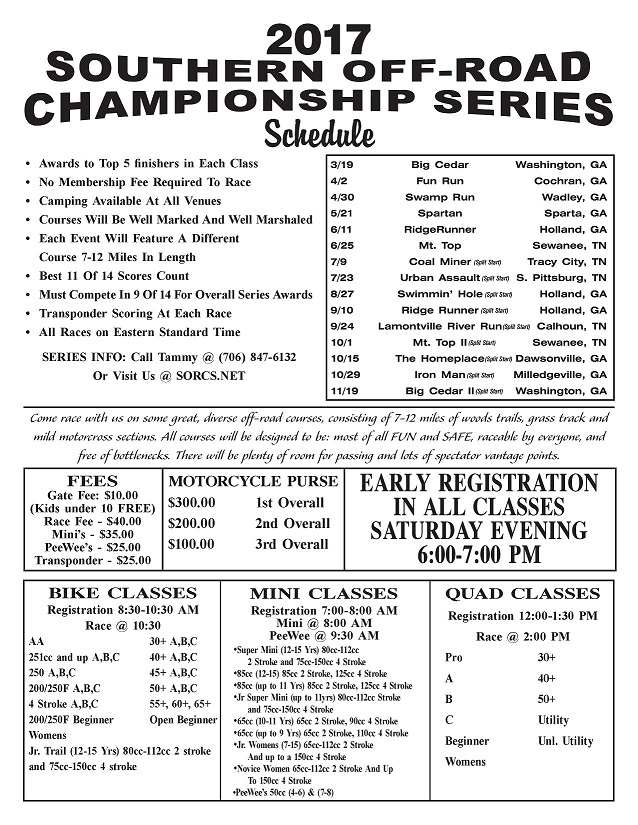 Click here for SORCS Summer Series Flyer
---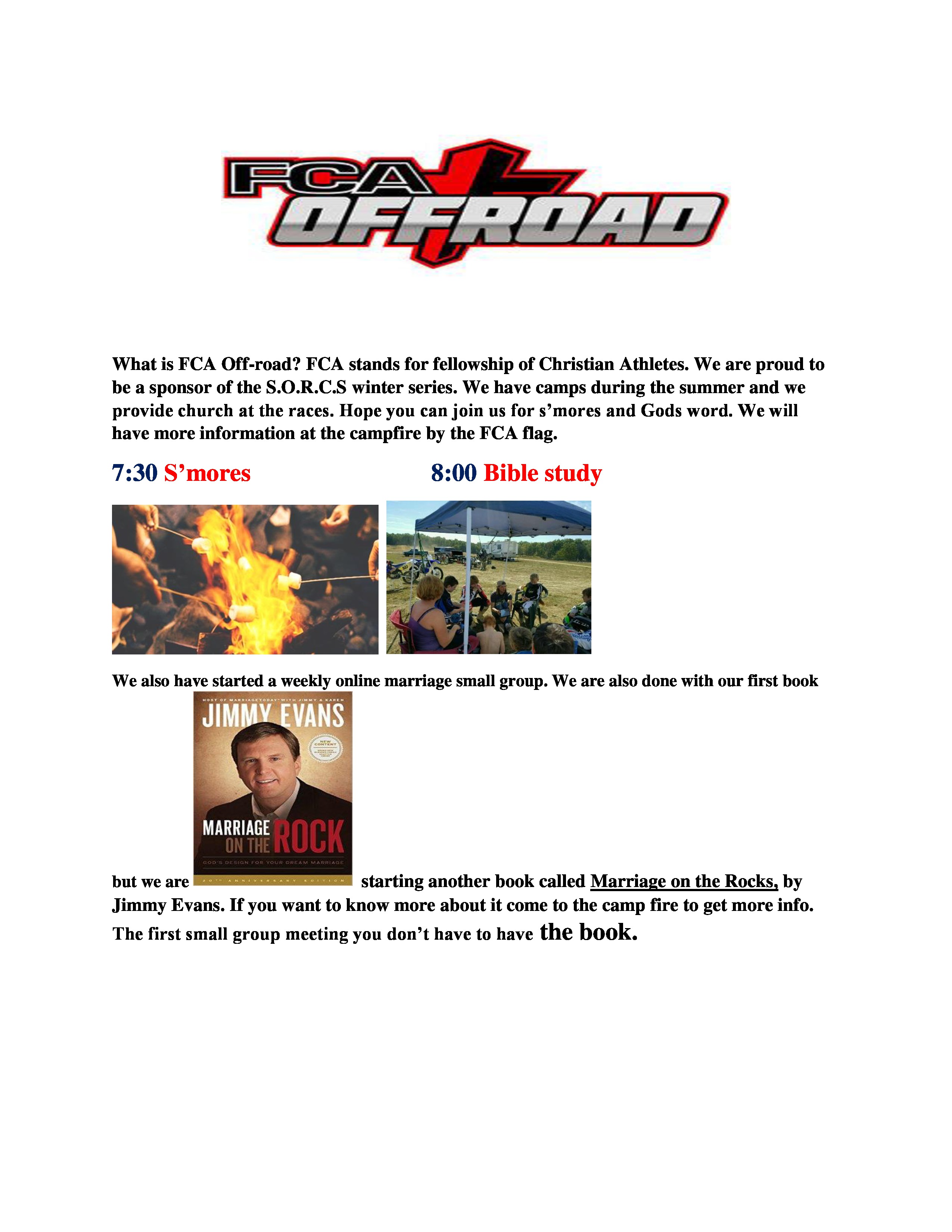 ---
ABSOLUTELY NO PIT RIDING ALLOWED AT SORCS EVENTS Violators will not be allowed to race and will be asked to leave the property. Keep race bikes and quads parked until 10 minutes before scheduled start and then ride them at idle speed in first gear to the starting line. After the race, please ride your bike or quad back to your pit area at idle speed in first gear. Failure to do so will result in a disqualification from the days event. We must enforce the No Pit Riding rule in order to keep going to the nice venues we have. We have already lost one venue and may lose another because of senseless pit riding. Golf carts, mules etc.. will be allowed at speeds of 5 MPH or less with a Responsible Adult Driver.

Thank you all for your cooperation in this matter.
---
SORCS Sponsors